Variable Selection
A Random Forests model is fit to the full data, with all available student and class level information available to the model. This allows the model to consider the effects of secondary, non-demographic variables such as whether or not the student has passed a GE Math class by the time they take Chem 111, the number of units they are currently taking (including Chemistry), and if they participated in high impact practices such as Summer Bridge.
The plot below graphs the % increase in unexplained variance (mean squared error MSE) if that variable were excluded from the model.
A good model has a low amount of unexplained variance, so a high % increase means that variable plays an important role in predicting GPA.
For display purposes only those showing an increase of greater than .1% are displayed.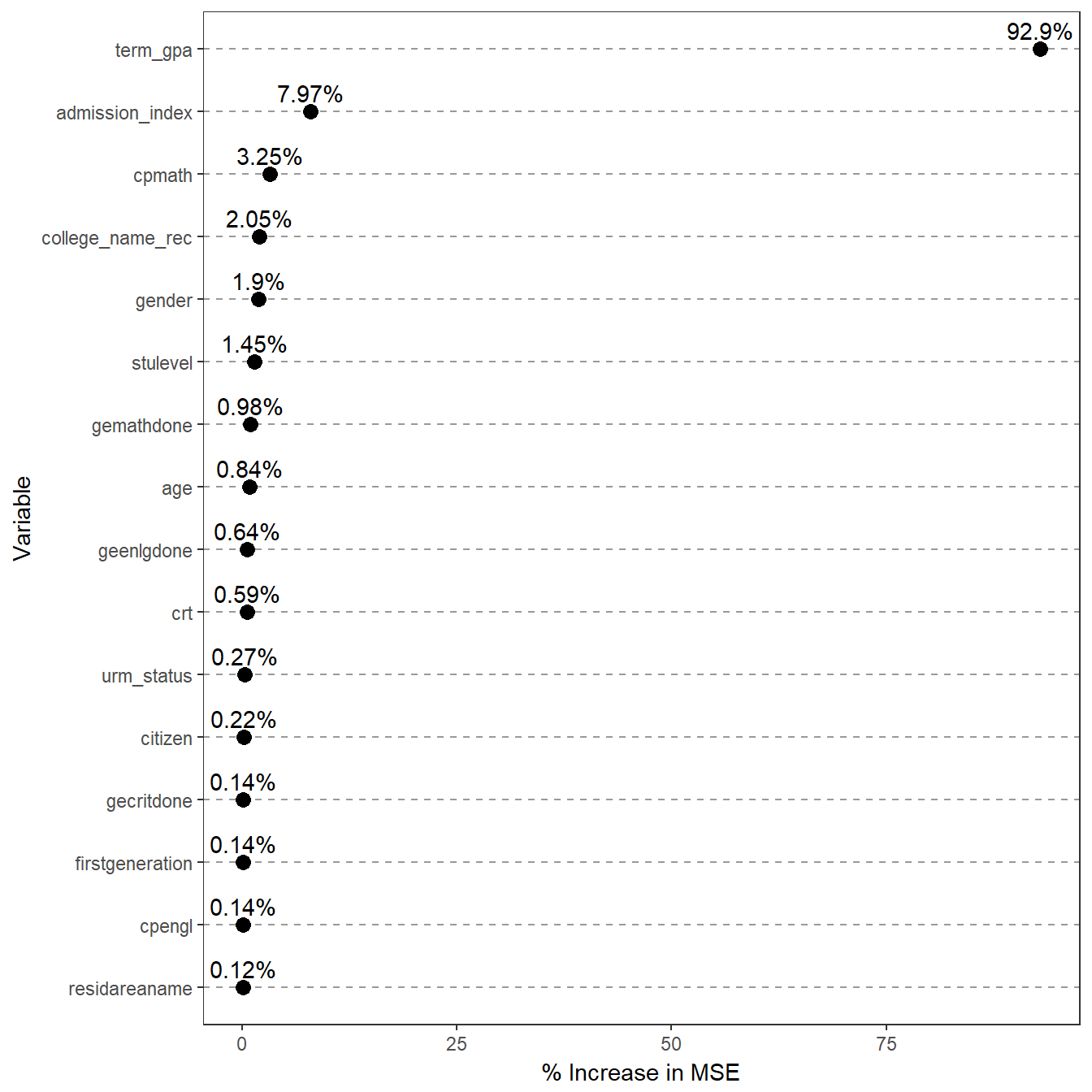 Variables with high importance were then used as a starting point to build a multiple linear regression model to assess the effect of the course redesign after controlling for these other features.
Linear Regression on GPA
Prior to modeling, a single classification tree was built to determine the optimal location of knots for the known non-linear relationships between GPA, age and admissions index. Spline knots were created at HSEI = 3.8, and Age = 22 and included in the starting linear model.
Further variable selection was conducted via backwards selection, removing the variables that were found to be not significant with GPA with a pvalue > 0.5. Certain demographics of great interest (i.e. First Generation status) were kept in the model regardless of their statistical significance level.
| | Estimate | CI | p-value |
| --- | --- | --- | --- |
| Term GPA | 0.877 | (0.81,0.94) | <0.001 |
| HSEI | -0.005 | (-0.28,0.27) | 0.9712 |
| HSEI > 3.8 | 0.723 | (0.2,1.24) | 0.0066 |
| Level: Sophmore | 0.007 | (-0.11,0.13) | 0.9133 |
| Level: Junior | 0.168 | (-0.01,0.35) | 0.0646 |
| Level: Senior | 0.119 | (-0.13,0.37) | 0.3552 |
| CP Math units: [6-8) | 0.704 | (-0.52,1.92) | 0.2576 |
| CP Math units: [8-10) | 0.988 | (-0.22,2.2) | 0.1101 |
| CP Math units: 10+ | 1.008 | (-0.21,2.22) | 0.1033 |
| College: ECC | 0.122 | (-0.02,0.26) | 0.0813 |
| College: Other | -0.228 | (-0.37,-0.09) | 0.0011 |
| Male | 0.295 | (0.18,0.41) | <0.001 |
| GE Math Complete | 0.280 | (-0.01,0.57) | 0.0583 |
| Redesign: CRT | 0.059 | (-0.07,0.19) | 0.3656 |
| Redesign: CRT + SI | 0.191 | (0.04,0.34) | 0.0112 |
| GE English Complete | -0.300 | (-0.59,-0.02) | 0.0391 |
| URM | 0.004 | (-0.12,0.12) | 0.9490 |
| URM-Unknown | 0.079 | (-0.09,0.25) | 0.3496 |
| First Generation | -0.052 | (-0.16,0.06) | 0.3592 |
| Any College prep English | -1.089 | (-2.35,0.17) | 0.0893 |
Summary
After controlling for other significant and demographic characteristics:
Gender
URM status
First generation status
Admissions index
Academic level
College prep English and math classes
Completion of GE English and Math classes
Term GPA
Students in the CRT + SI class had significantly higher GPA compared to students in the traditional course (0.18, 95% CI (0.03-0.33), p=.0155).
Logistic Regression on a repeat grade
Improving GPA by 0.18 points is great, but this doesn't tell us which students are improving. Last we'll analyze the likelihood of a student passing the class. Again our goal is to see if the redesign alone, or in conjunction with SI moves the needle significantly on the lower performing students after controlling for other factors.
Here we see a similar plot as before, that shows the variable importance. The difference again is that we are now predicting a student passing the class, not simply their GPA. Each variable can inform the model differently. The measure being plotted here is the decrease in accuracy (correctly predicting the outcome), if that variable is not included in the model. Again for demonstration purposes only variables that would decrease the accuracy by over 0.1% are displayed.
Unsurprisingly, how well a student does across all classes that semester is a strong predictor for whether or not the student passes Chemistry. This serves as an excellent reminder that classes don't live in bubbles. If a student is doing poorly in one class, it is likely that they are struggling in their other classes as well.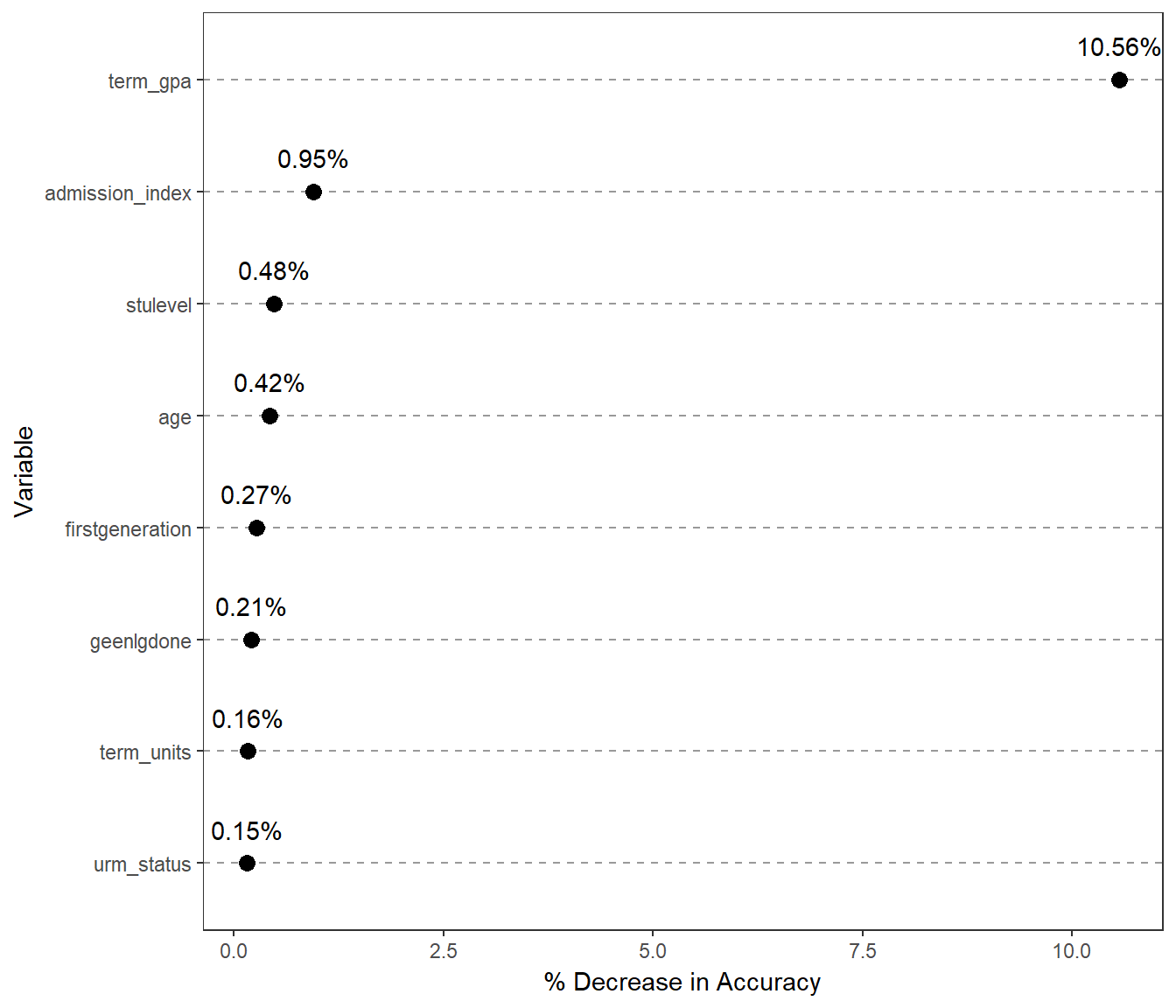 Using these variables as a starting point and subsequently doing backwards variable selection and testing some interaction terms we get to a final model to predict passing Chemistry 111 that includes:
term level GPA
admissions index
URM status
Gender
First generation
College
Course Redesign type
GE course status (English/Math/Critical Thinking)
Entry level English/Math proficiency
Interaction between admissions index and Course redesign type
The inclusion of this interaction term indicates that the type of course redesign changes the relationship between admissions index and the probability of a student passing the course.
The typical method of presenting results from a Logistic regression is to present the Odds Ratio, comparing the odds of passing the class for "Group A" compared to "Group B". Most people don't think in terms of Odds. So what we present here is the distribution of the model predicted probability of passing the class, after controlling for all these other variables, and display this by course type.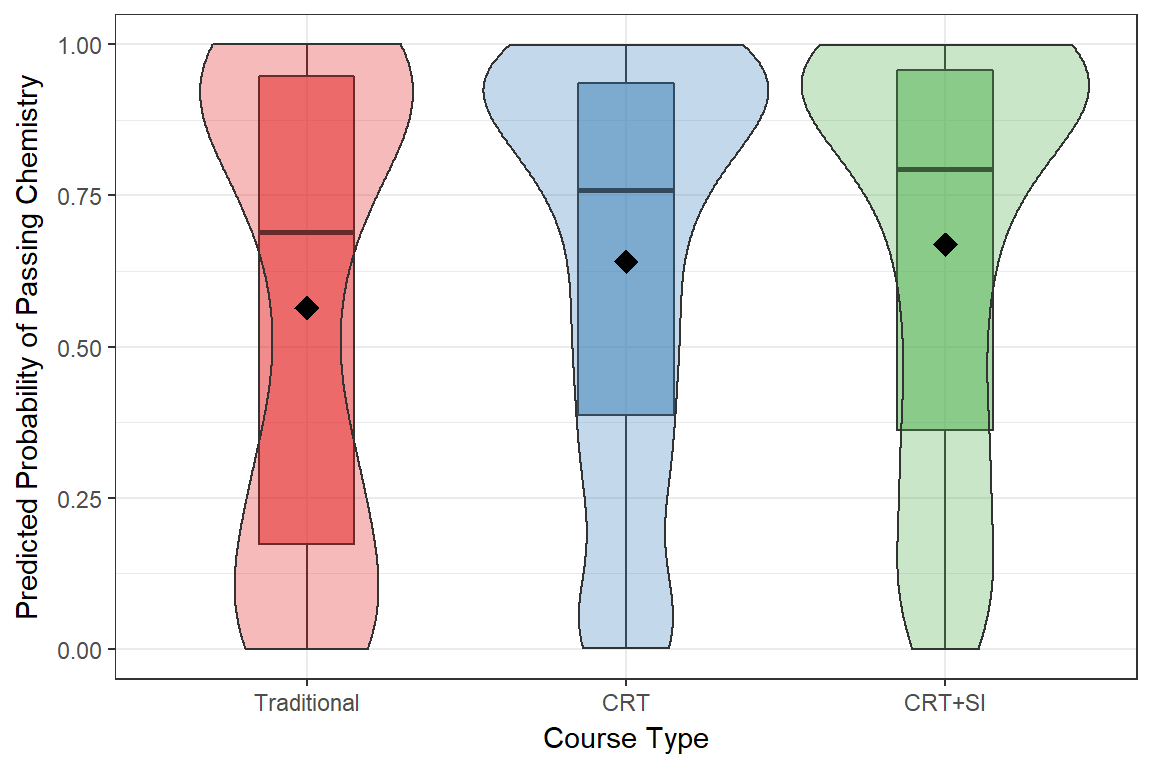 Mean and Median predicted probability of passing the class by class type

| crt | mean | median |
| --- | --- | --- |
| Traditional | 56.4% | 69% |
| CRT | 64.1% | 75.8% |
| CRT+SI | 66.9% | 79.3% |
The likelihood of passing Chem 111 significantly increases with the level of redesign (direct numbers not shown here).
Under the Traditional course offering, on average a student would have a 56.4% chance of passing the course (according to this model)

With CRT, on average a student would have 64.1% chance of passing the course
With CRT + SI, half the students were predicted to have up to 66.9% chance of passing the course.
This may seem like a moderate gain, only a 10.5% percentage point increase in predicted probability of passing the course from Traditional to CRT + SI, but remember this is after controlling for all other factors, such as admissions index.
This modeled probability reflects the unadjusted, raw, course (and coarse) level passing rates for the class.
This strengthens the justification that these improvements are likely due to the redesign itself, not something external.
This is a good place to further demonstrate how the redesign affects students with different ranges of admissions index, differently. The ranges shown here reflect the distribution of admissions index for Chemistry students: the bottom 25% of students had below a 3.5 admissions index, the median is 3.7, the third quartile is 4.0, with a max of 4.6.
For the bottom half of the class, the course redesign improved the predicted probability of passing the course.
For the upper half, there was either no, or a negative effect of the redesign.

These comparisons were not tested directly for statistical significance, but the redesign did significantly change the relationship between HSEI and the likelihood of passing the course. This plot simply demonstrates in what direction and magnitude that change occurred.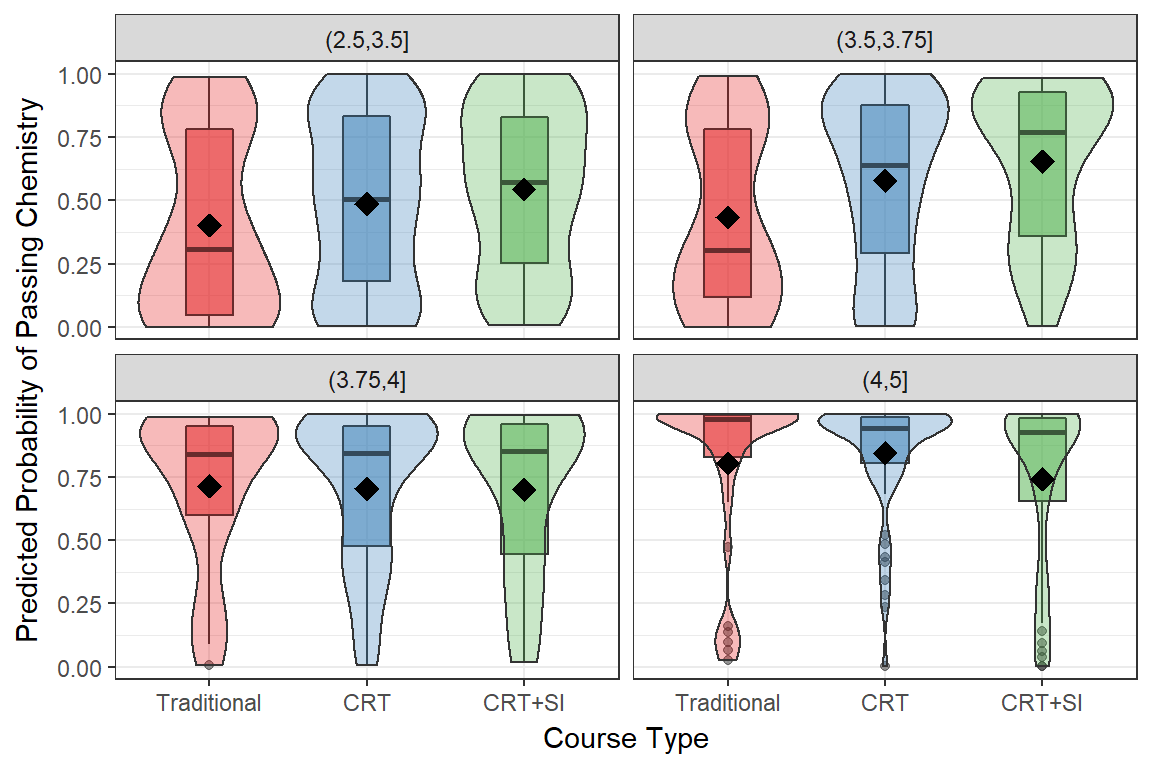 Summary
Course redesign significantly increased the probability a student will pass Chemistry 111.